Danser en attendant (la fin du monde)
Festival international d'art numérique Sight + Sound, Montréal
du 26 octobre au 12 novembre 2022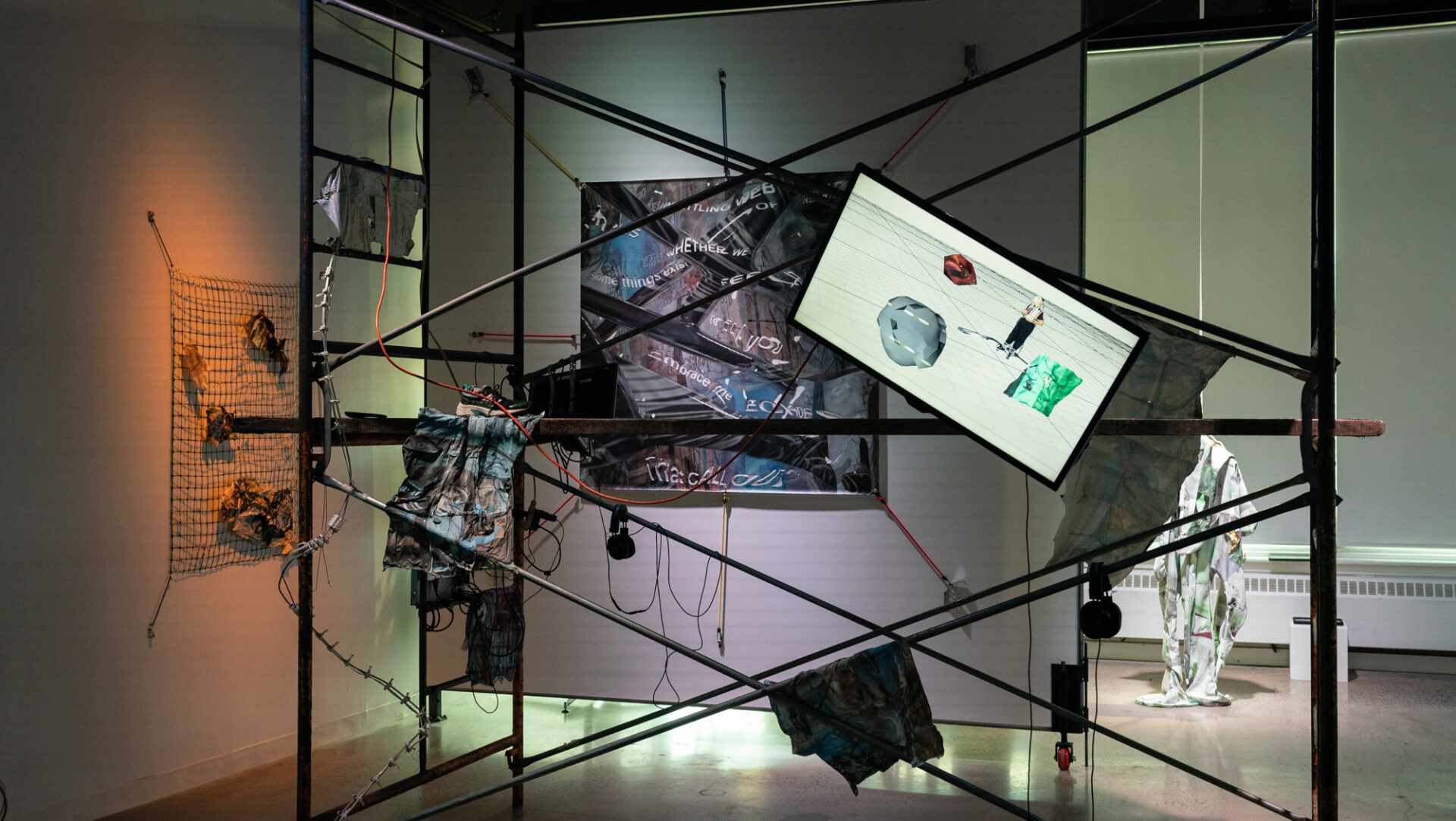 Festival international d'art numérique Sight + Sound, Montréal
du 26 octobre au 12 novembre 2022
[In French]
Chapeauté par le centre d'artistes Eastern Bloc, le 12e festival international d'art numérique Sight + Sound se déploie sous diverses propositions : exposition, performances audiovisuelles, conférences et ateliers. Cette nouvelle itération, commissariée par Nathalie Bachand et Sarah Ève Tousignant, s'attarde aux enjeux de la virtualisation de nos interactions et de notre existence à l'aube d'un retour à une certaine « normalité » postpandémique. Sont présentés, dans le cadre de l'exposition à Eastern Bloc, des projets qui investissent de nouveaux paradigmes de socialité ayant émergé au cours des dernières années.
À l'entrée de la galerie, les installations Detumescence (2021) de Faith Holland et calling upon the digital touch (2020) de Marie-Eve Levasseur introduisent les enjeux liés à la nécessité et au désir de proximité pendant les situations d'isolement. Agissant à titre de monument commémoratif pour souligner les morts de la COVID-19, l'œuvre de Holland est composée de peluches reproduisant les ordinateurs Apple aux couleurs vives et transparentes emblématiques du début des années 2000, d'appareils téléphoniques désuets et d'arrangements de fleurs et de fruits voués à se dégrader au fil de l'exposition. L'œuvre a d'abord été diffusée en direct afin d'offrir un espace collectif de deuil aux internautes à un moment où toute réunion demeurait impossible. Approchant ces thèmes avec désinvolture, Holland confronte le paradoxe de l'obsolescence programmée de nos appareils numériques et de leur empreinte écologique au caractère éphémère de notre existence humaine. Cette nouvelle configuration sociale autour d'un évènement fondamental met en relief autant les frustrations qu'il peut susciter que les possibilités qu'offre le Web pour générer proximité et collectivité.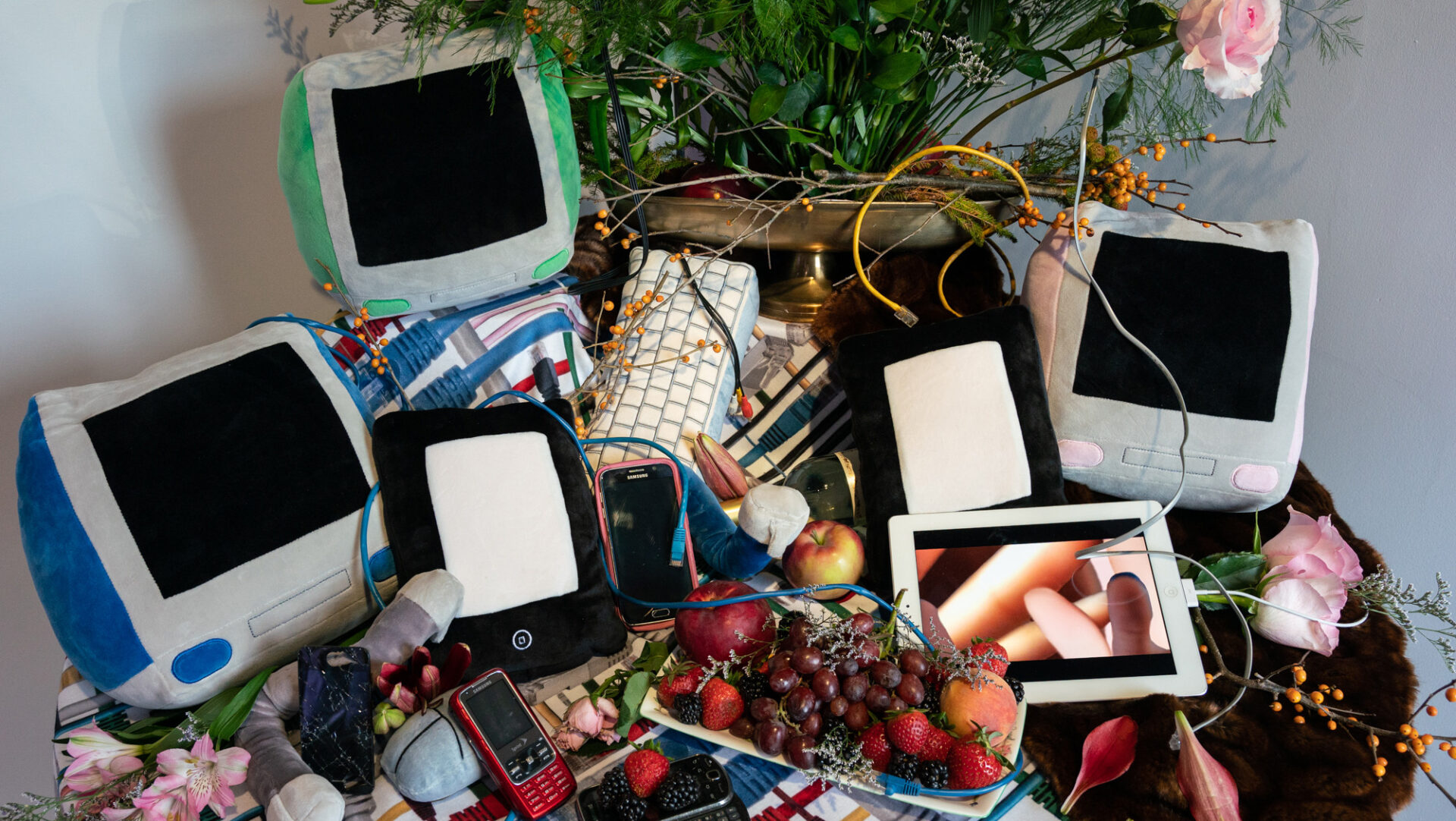 Cette réflexion se poursuit dans l'œuvre de réalité augmentée de Marie-Eve Levasseur, dont l'intervention vise l'espace physique de la galerie, d'une part, et celui, virtuel, d'une application mise à la disposition du public, d'autre part. Des sculptures molles reproduisant des mains de taille et de forme exagérées ainsi que l'impression photographique d'un sofa recouvert par l'artiste sont les véhicules à partir desquels se manifestent, dans l'application mobile, des mains fantomatiques aux teintes verdâtres. En tenant l'appareil devant les éléments présentés, ces mains surgissent, ondulant sensuellement dans l'espace virtuel et effleurant avec douceur les objets à leur portée. Des phrases jaillissent à l'écran : « to touch you beyond the physical » (« pour te toucher plus que physiquement »), « and then, it did cast a spell upon this place (through my phone) » (« ensuite, ça a vraiment jeté un sort sur cet endroit [à travers mon téléphone] »). À la fois appendice et spectres numériques, l'œuvre rend possible l'incarnation du toucher à distance, d'une proximité retenue.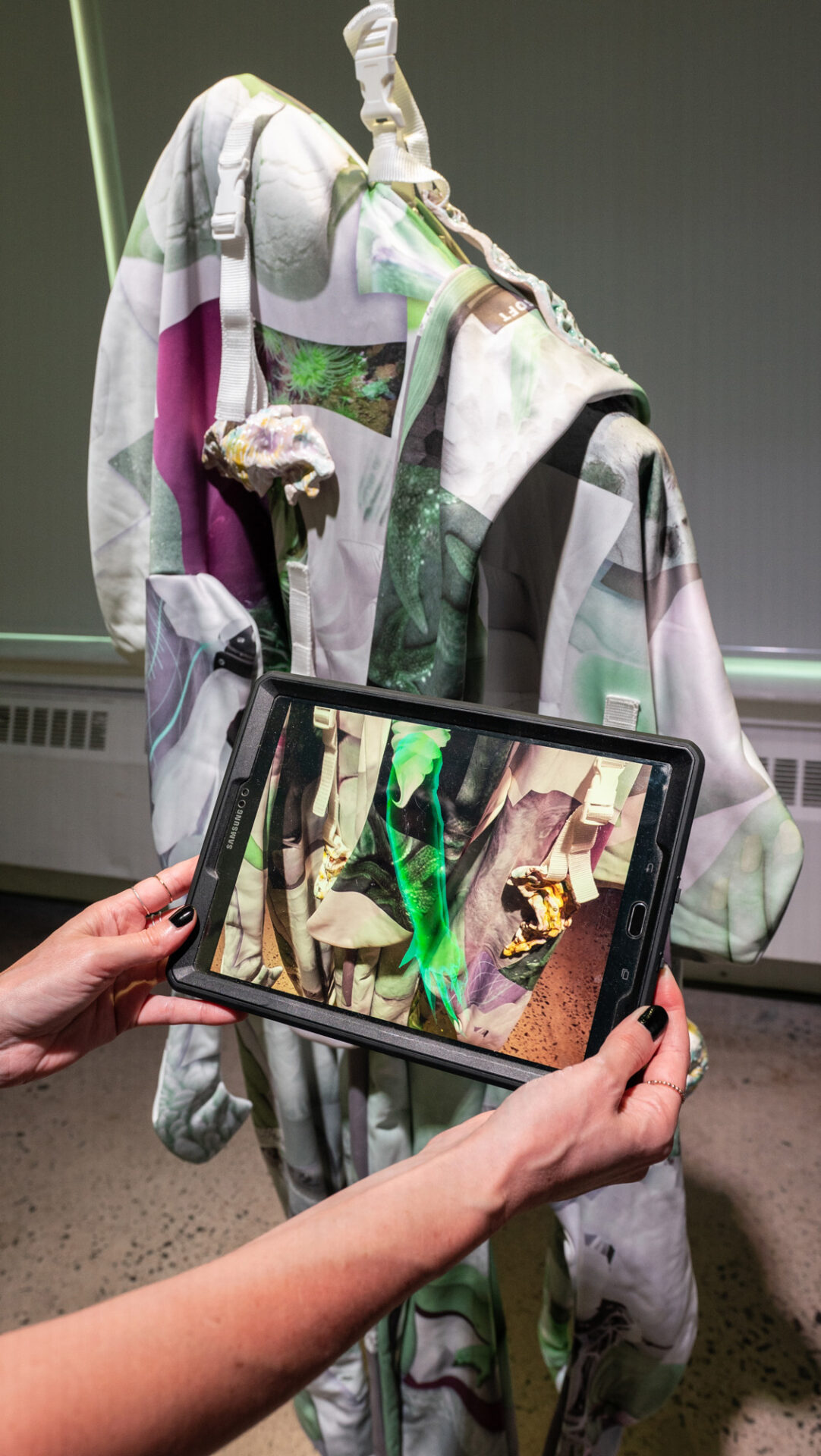 Alors que Holland et Levasseur détournent et étudient les technologies à notre disposition pour réactualiser nos relations de proximité et d'intimité avec autrui, Johanna Bruckner propose, avec Molecular Sex (2020), une vision du futur dans laquelle on a enrayé les distinctions entre technologie, animalité et humanité afin d'accéder à de nouveaux modèles existentiels. L'installation est composée d'une vidéo sur deux canaux accompagnée d'un manifeste diffusé en continu, lequel explicite l'évolution de la situation biopolitique dans ce futur peuplé de « robots sexuels ». Nés d'enchevêtrements moléculaires relevant de l'humain et de technologies futuristes et présentant certaines particularités des ophiures (classe d'échinodermes apparentée aux étoiles de mer) et de la bactérie Wolbachia, ces cyborgs promettent l'éclatement de notre conception binaire du genre et de la sexualité. L'œuvre pose un regard sur la plasticité reproductive de ces espèces (soit la scissiparité ou capacité de se cloner des ophiures et la féminisation des mâles causée par la présence parasitaire ou mutualiste de la bactérie Wolbachia chez un hôte), laquelle permettrait l'avènement d'une nouvelle « humanité ». Par cette danse moléculaire que représente l'artiste à travers une imagerie modélisée de la créature en question, ainsi que celle d'une humanité en redéfinition dont les corps s'enlacent dans une atmosphère partagée, Bruckner nous invite dans un futur quantique qui résiste à notre conception dualiste et anthropocentrique du vivant.
Dans ROSS 128 (exoparty) (2020), expérience immersive de rave interespèces aux tonalités postapocalyptiques, Elisa Gleize et Thomas Lopez entreprennent à leur tour une exploration spéculative et festive des possibilités que permet la réalité virtuelle (RV). Cette plateforme numérique fictive accessible avec un dispositif de RV souligne le potentiel rassembleur de la fête au-delà des barrières interstellaires et biologiques. C'est ainsi qu'on se retrouve aux commandes d'un avatar interagissant avec une communauté d'avatars d'extraterrestres dans un cyberespace qui engendre un environnement inclusif et égalitaire où tous et toutes sont libres de moduler leur identité à leur guise. Si le projet permet d'entrevoir des futurités insoupçonnées, il demeure qu'on y possède une agentivité restreinte.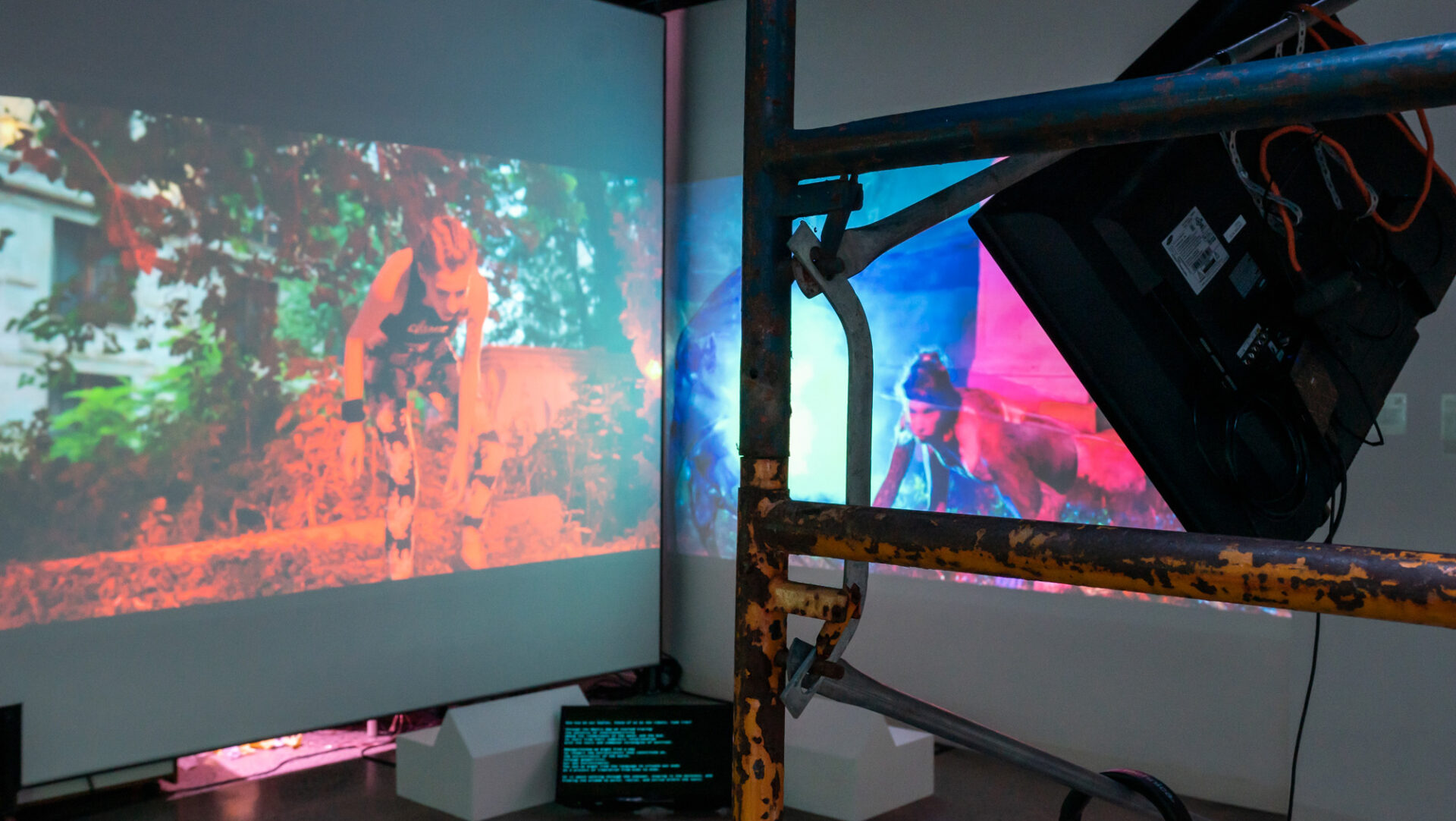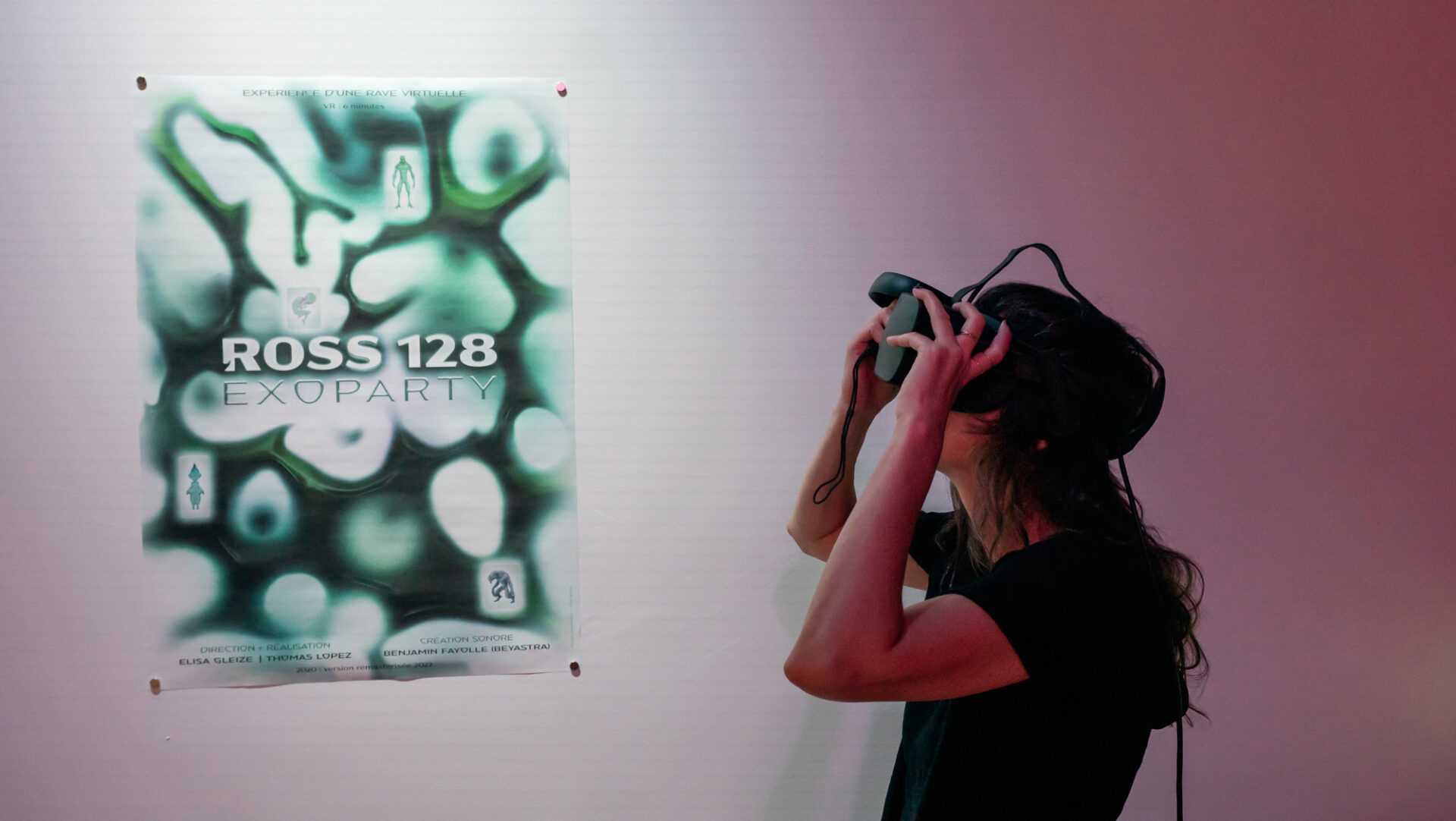 En contrepoint de cette incursion dans un cyberespace festif, Max Lester propose, avec Behind These Strange Sensations Are Hidden Structures (2020-2022), une réflexion sur les structures de pouvoir et de contrôle que représente l'architecture urbaine. L'installation prend la forme d'un échafaudage oxydé dans lequel sont perchés trois vidéos, des impressions sur papier gommé aux grillages et de vieux gants en nitrile évoquant autant de détritus. Les vidéos présentent un avatar composite de l'artiste errant dans une ville aux gratte-ciels modélisés ou encore au sein d'une grille virtuelle où se déplacent des formes organiques, des amoncèlements de papiers et des déchets épars. Dans ce contexte anxiogène, le protagoniste, désemparé, échange des commentaires et des réflexions parcellaires autour du rapport à la ville avec une créature humanoïde. L'échafaudage et les autres structures de construction éphémères, tout comme le travail de maintenance invisibilisé, deviennent des sujets sur lesquels rebondit l'artiste pour réfléchir aux dispositifs stratégiques du pouvoir et leur rapport à l'individu.
Parallèlement, Pascale LeBlanc-Lavigne se penche, avec Mort au bureau (2022), sur le renversement du rapport au travail durant la crise sanitaire et après, notamment le télétravail et l'anticipation du retour au bureau, deux phénomènes portant leur lot de désagréments et de bénéfices. Entretenant cette posture ambigüe, l'artiste présente un bureau inoccupé où les outils omniprésents dans notre quotidien professionnel développent une vie propre et orchestrent une danse cinétique aux mouvements répétitifs. L'œuvre s'articule en deux lieux : une caméra de surveillance mise en place dans les locaux de Sporobole, où l'artiste a poursuivi une résidence, diffuse en temps réel les interventions cinétiques réalisées dans un second bureau. L'œuvre souligne, par la mise en scène de l'agentivité oisive des objets abandonnés à eux-mêmes, les attentes envers les employé·e·s et les dispositifs de surveillance de leur rendement, exacerbés durant la pandémie, tout en jouant sur cette tension entre l'autonomie et le contrôle propre au travail à distance. L'exposition présente également une série de cinq vidéos (Raphaël Moreira Gonçalves, Lanéya Billingsley [Billie0cean], S4RA, Steven Sych, Santiago Tamayo Soler) illustrant à leur tour les potentialités du numérique, qui, en générant des univers virtuels où l'on peut appréhender différemment les enjeux d'une socialité postpandémique, nous aident à combattre les sentiments d'isolement et d'austérité, notamment, et à nous réapproprier ces expériences de manière à la fois ludique et critique.